Books of the Bible Activity
The books of the Bible should be a part of every child's memory work. Knowing the books of the Bible and the order they appear helps with Bible study. It helps when following along in a sermon. It helps when teaching others about God. One of the methods I've used to teach the books of the Bible is the interactive poster shown below.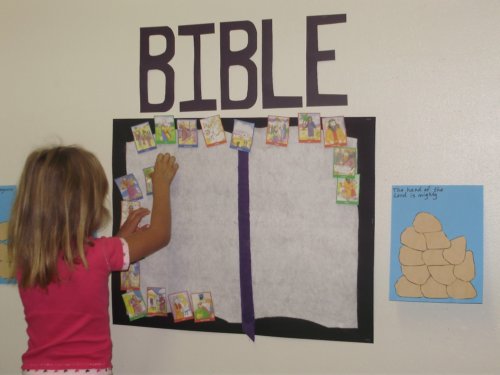 The board is just a black poster board with white felt in the shape of opened pages of a book. A strip of ribbon glued down the center makes it look a little more authentic. The little cards have a picture representing the book and the name of the book. The cards are backed with the hook side of velcro. If you don't have pictures to represent each book, the title of the book will be sufficient. Color coding the codes based on the type of book they are can be useful as well. For example, history cards get one color, poetry gets another, etc.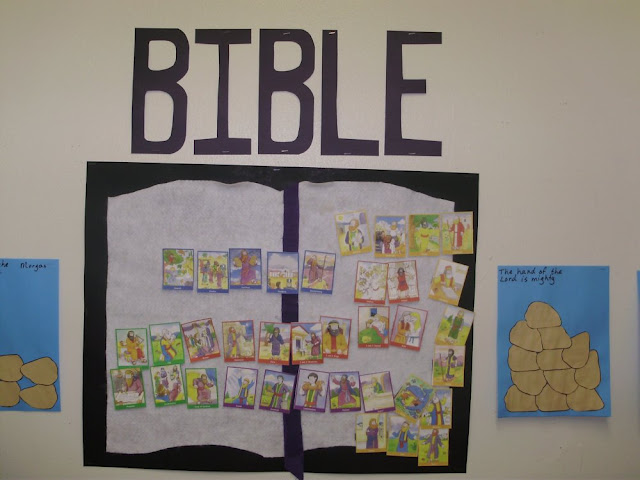 There are several ways to use this activity:
Have the child place all the books in order on the board.
Before class, place the cards in order but leave a few off. The child then puts the missing card in its correct place.
Place all the New Testament cards on the board but occasionally have a book of the Old testament mixed in. The NT cards could be in order or random. The child then removes the OT books from the board. Of course, this could be done in reverse as well.
Make labels with the divisions of the Bible — history, poetry, law, etc. Place these on the board. The child puts the cards under the correct label.
Choose child to lead the class in reciting (or singing) the books. The lead child points to each book.
I'm sure there are other ways to use an activity like this. I'd love to hear your ideas for teaching the books of the Bible as well.