While going through the Old Testament it becomes evident that some of the people we learn about had faith in God while others did not. They showed their faith in God by obeying Him. One way I have used to help the children remember the different people we met as we studied was to have a wall of faith. It's a really easy wall decoration to put up that can take up an entire wall if you have the space or as you can see in the last picture, be reduced to a section of a wall.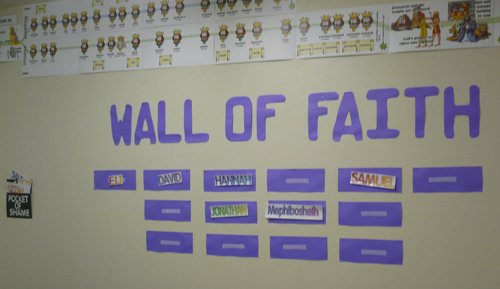 Our wall of faith just had the words WALL OF FAITH and several strips of colored paper stapled to the wall to begin with. The strips of paper had a strip of the hook side of velcro attached. The name cards had flannel on the back. This allowed the activity to be redone each work or as time allowed. As we met up with different people in our studies, if they exhibited faith in God, they were added to the wall of faith.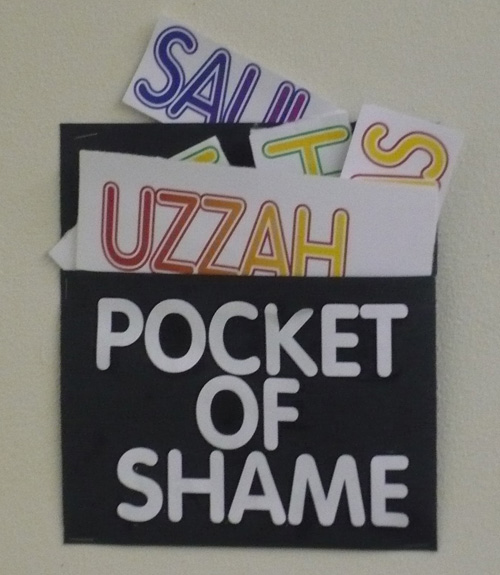 Since God tells about more people than just those that were faithful to Him, we meet a lot of folks that showed their lack of faith in God. I didn't want to highlight these by having a corresponding Wall of Shame or something similar, so we put a small black pocket on the wall with the words POCKET OF SHAME on the front. If the person we met was unfaithful to God, that's where they went.
This activity gave us the opportunity to talk about disobedience to God as in the case of David with Bathsheba. We didn't move David to the pocket of shame, although he acted shamefully, because the scriptures taught that he was repentant and God forgave him. It allowed us yet another opportunity to discuss God's great forgiveness if we will turn towards Him.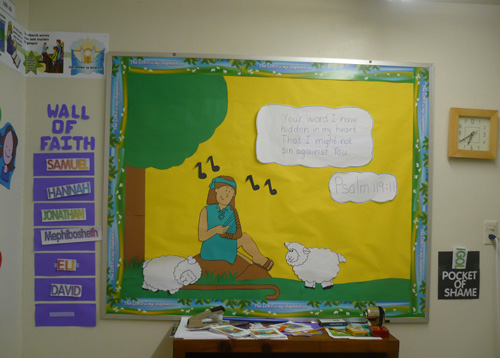 After a couple of quarters, we needed to change the Wall of Faith but didn't want to give it up altogether so it was condensed along the side of a bulletin board on another wall and we continued to add to it. Some of the more obscure people that were on the large wall were removed so it wouldn't be as cumbersome.