I Am Fearfully And Wonderfullly Made
What a wonderful thought — to be created and not just to have happened.  This booklet highlights none other than the student his/herself as well as introduces the student to this wonderful Psalm.  Be sure to take some scales and a measuring tape to Bible class the day you use this.  You will be measuring and weighing each child and let them record the information in their booklets.  They will also answer questions about themselves such as hair color and their favorite food.  The cover of the booklet we did had a photograph of each child on their book.  I'm including a blank cover that you can add a photo if you'd like but I'm also including a generic cover that can be used just as well with any child.  In fact, it's nice to have a couple of these on hand even if you do the photograph in case you have visitors in class that day.
This booklet can be used as a take home or can be added to the Book of Poetry Project Folder.
I Am Fearfully And Wonderfully Made (PDF)
Photograph cover: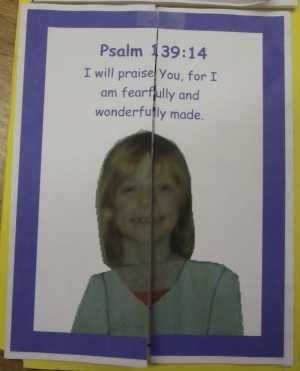 Generic Cover: