That You May Believe Pop-up Book
This pop-up book was designed for use during our Vacation Bible School.  We were studying the 7 miracles of Jesus that are found in the book of John.  The theme of the VBS was That You May Believe based on the passage in John 20:30-31 "And truly Jesus did many other signs in the presence of His disciples, which are not written in this book; but these are written that you may believe that Jesus is the Christ, the Son of God, and that believing you may have life in His name."
If you haven't read the information about how to make a pop-up book, you might do that now.  There are some instructions within the files that pertain to that specific page but the general instructions are found here: Pop-up Books.

That You May Believe Cover and Back pdf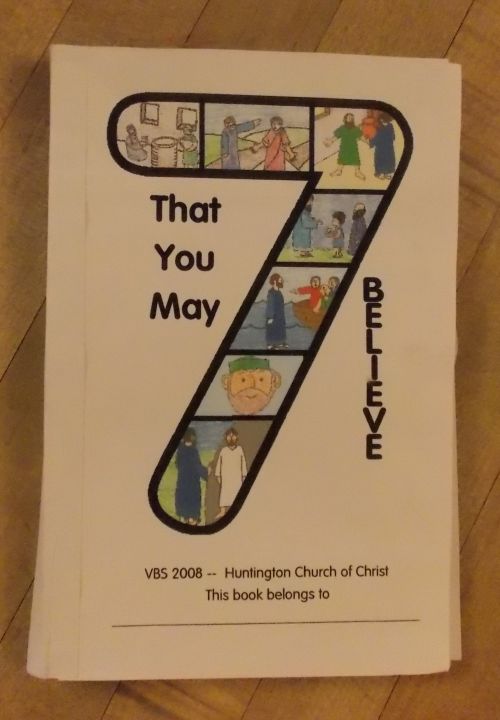 Jesus Turns The Water Into Wine pdf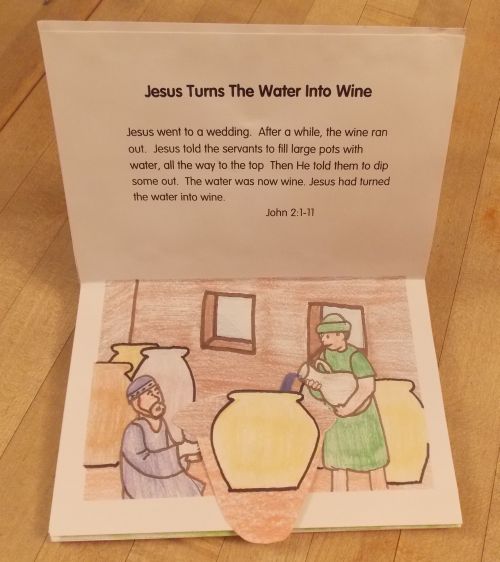 I like to have the children add something to each page in a pop-up book but this one doesn't have one. When the jar is upright, the servant is pouring water in.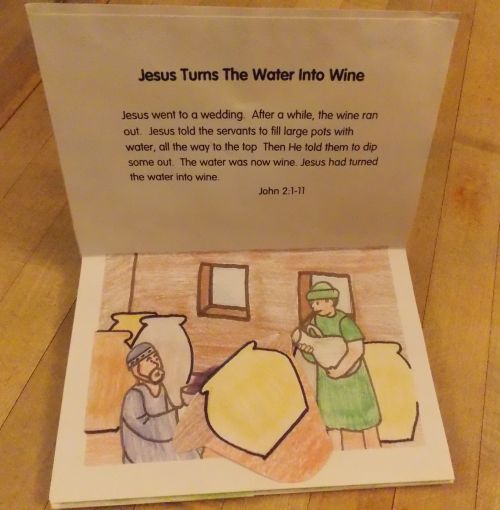 When the jar is tilted just right, out comes wine into the servant's cup.

Jesus Heals The Nobleman's Son pdf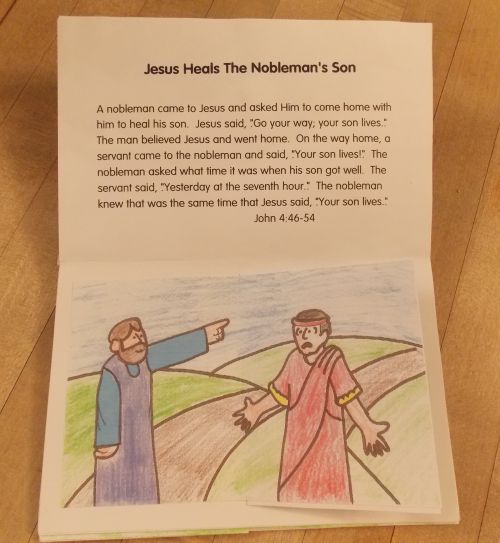 The nobleman pleads with Jesus to heal his son. Jesus tells him to go home, his son is fine.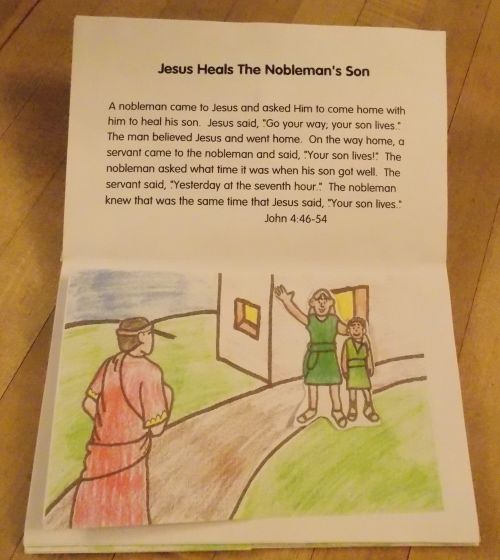 Lift the flap and the child can glue the servant and son in place. When the nobleman arrives home, he sees that his son is healed.
Jesus Heals A Lame Man pdf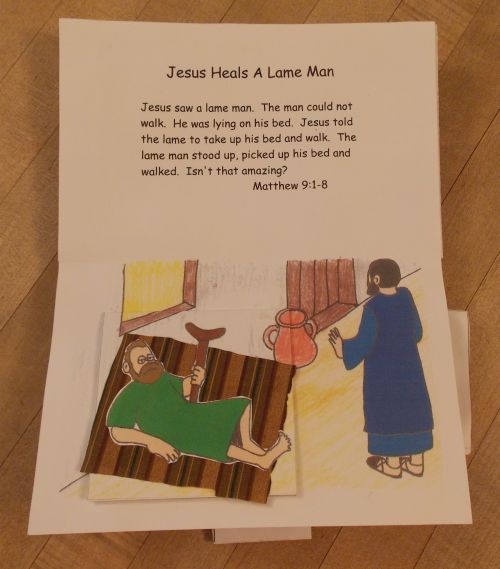 You will need 2 small squares of fabric for this one. I found some that resembled a woven blanket that might would have been used at the time. Help the child glue the fabric to the flap and then the lame man on top.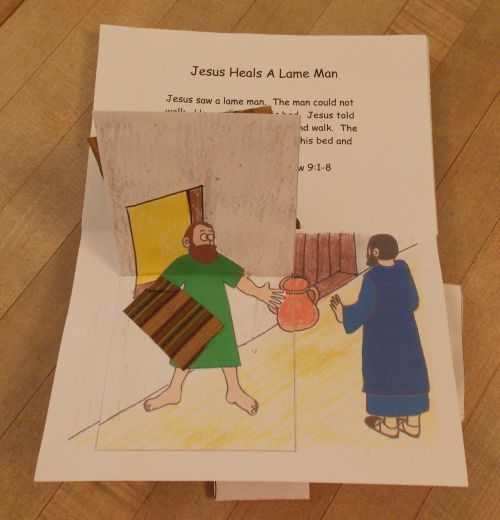 Lift the flap and glue the healed man carrying his mat. It might be a good idea to glue the first one, then let it dry a little before gluing the other. Otherwise, it can get messy.
Jesus Feeds 5000 People pdf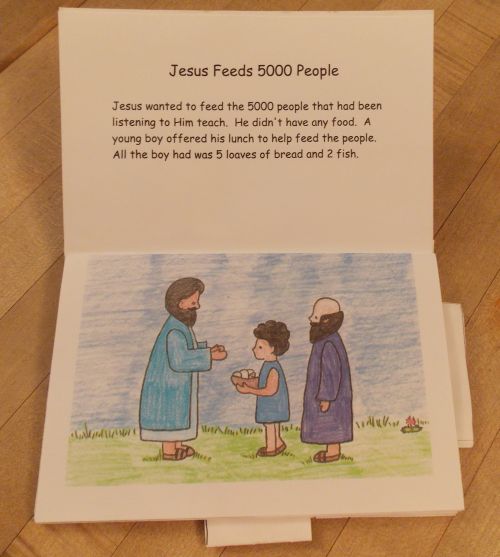 These pictures were taken from Palma Smiley's To Toddler's With Love. It is a 3 part flap page. Lift the first flap to see the next part of the story.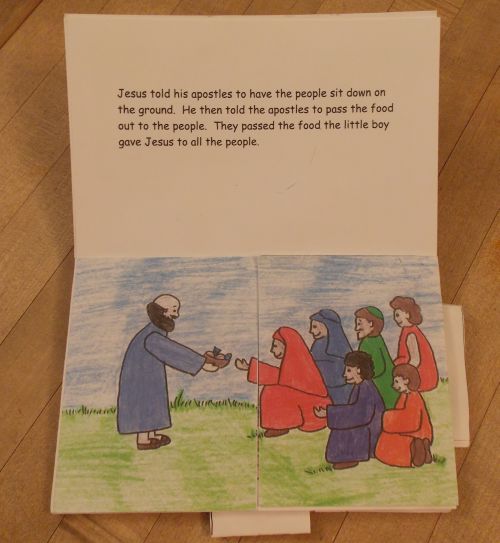 Open the side flaps to reveal the last part of the story.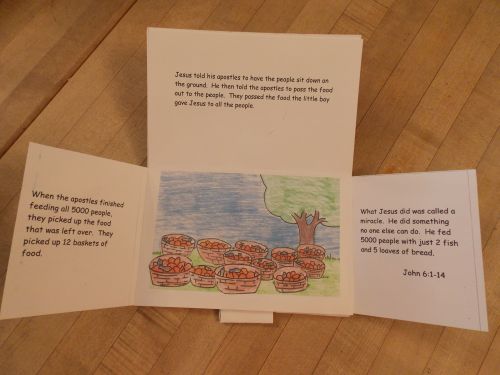 Student adds four baskets to the picture to finish out the 12 baskets that were left over after Jesus fed the 5000.
Jesus Walks On The Water pdf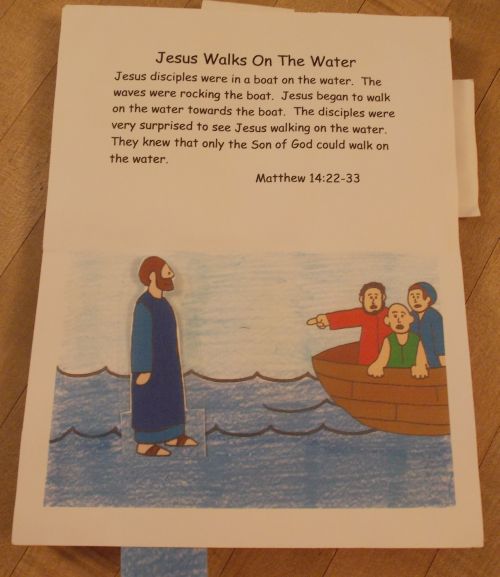 Another classic that I remember doing as a child. The child can help Jesus walk on the water by moving the tab below. Laminating the Jesus figure will help making it easier to move back and forth.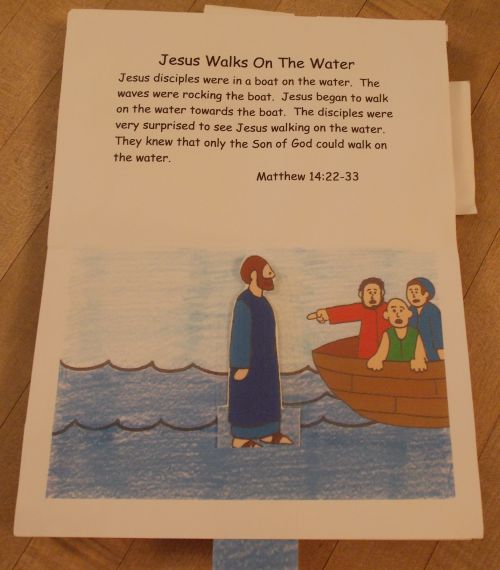 It will also make it easier if you cut out the figure and then laminate cutting the laminate with a smooth border around the figure. I hope that makes sense.
Jesus Heals The Blind Man pdf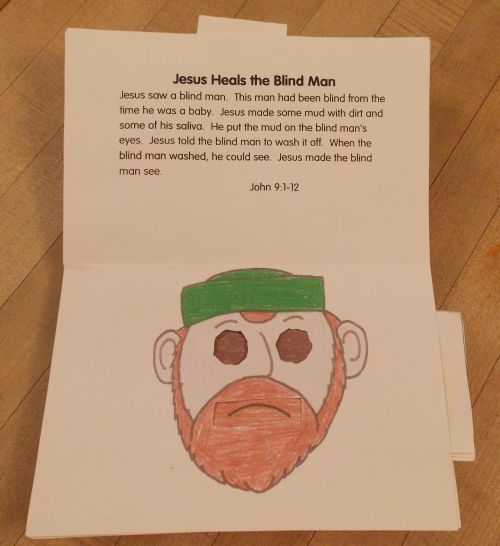 This activity does not have anything for the child to add. It should be fully assembled before class. When the slide is pushed in all the way, the blind man appears to have mud on his eyes.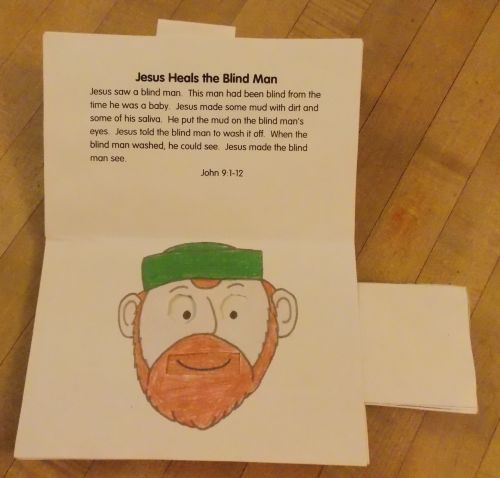 When the slide is pulled out, the mud is gone and the blind man can see. Laminate the slide to make it easier to push in and out.
Jesus Raises Lazarus From The Dead pdf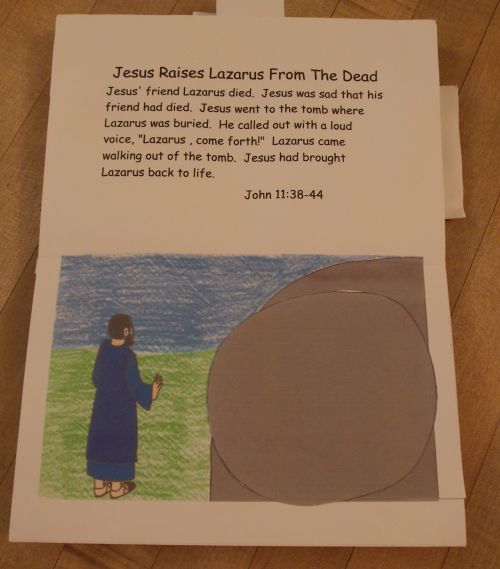 Jesus stands before Lazarus' tomb commanding him to come out.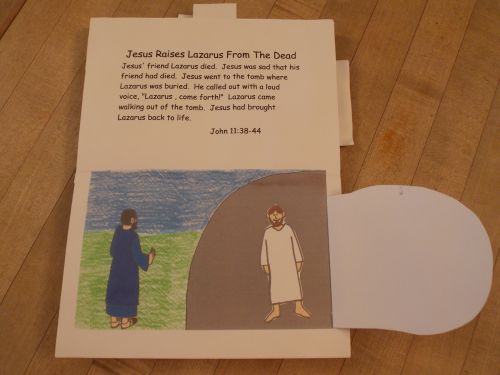 Lift the flap, glue Lazarus in place.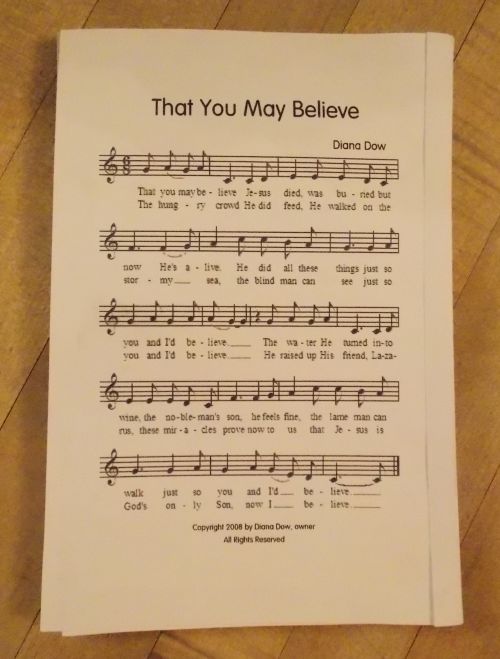 This song was written for the VBS the book was used in. You can hear it here: That You May Believe