QR Codes and Grandmas
What do you get when you put a Grandma, a Bible story bag and QR Codes together.  Just the most amazing Christmas gift a grandchild could receive.  Well…at least I think it's cool…and it was intended to be a Christmas gift even though it didn't get finished until February.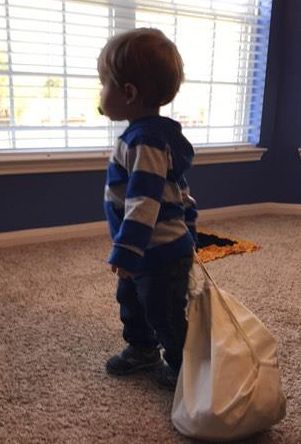 Before reading further, you need to meet the prerequisites which involve reading the post about Bible Story Bags and the post about QR Codes and the Bible class.  Go ahead…I'll wait until you finish reading them.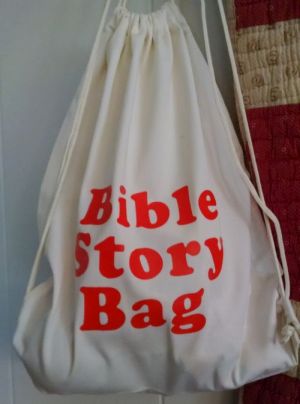 Back in October when I got that great deal on all the Bible story toys, I bought enough for my Bible class to have several sets and also a set for each of the grand kids.  Well, not each of the grand kids but a set for each family of grand kids which as of now is three families so I have three story bags.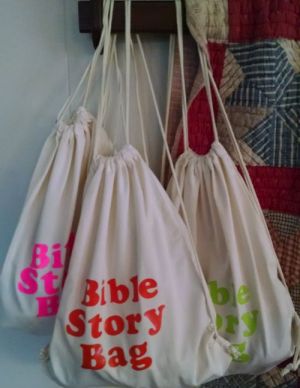 My first thought was to just give each family a story bag just like the one for Bible class but I got to looking on Amazon and saw that there was a book published by Beginner's Bible for each of the sets of Bible characters.  Of course, I had to buy the books.  So, each Bible story bag has five little bags with Bible characters and five corresponding books.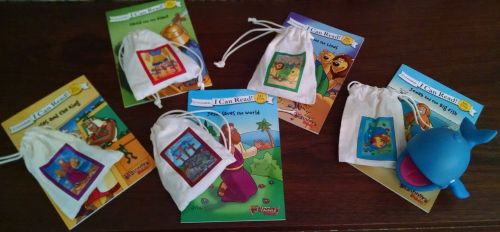 That's pretty good.  Books, matching toys all stored in a bag, but I had another idea.  We had done something like this several years ago and thought it was time to do it again.  Back then, each of the boys who were still at home plus Danny and myself chose a children's book.  I bought two of each book (there were just two families of grand kids at the time).  Then I made a video of each of us reading the book we chose, made it into a DVD and gave it to the grand kids for Christmas.  The grand kids could watch their uncles, their Danpa and their Gramma reading books to them any time they wanted.  That's what I planned to do with these books.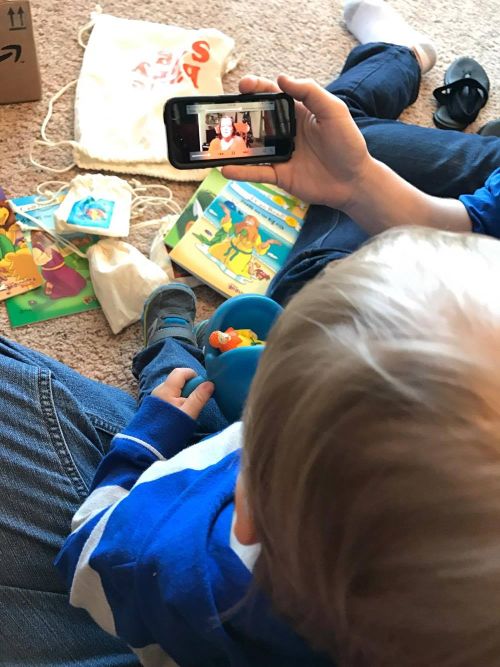 With great reluctance, the three boys still at home read a book in front of the camera.  Danpa and I read our books.  I even sang a few songs.  I tried to get the boys to sing but seeing how reluctant they were to read, singing was going a little too far. Jonathan edited the video and it was ready to go. I was still planning to make a DVD but I knew that my grown kids didn't have the time or the desire to mess with DVDs.   Then I thought of the QR codes I had used for the bags in the link you read earlier  That's it!  I will upload the video to Youtube, create a QR code for it and iron it on to the bag.  All mom or dad has to do is access the code with their phone and there we will be, reading the books to the grand kids.
Just think about the possibilities!  The next time you buy your grand child a book, take a video of yourself reading it, upload the video to Youtube, create a QR code, copy it from the computer, tape it to the inside of the book, wrap it up and present it to your little bundle of joy.  Now your grand child can hear you and even see you read the book to him as often as he wants.
For privacy and to appease the teenage uncles, when I uploaded the video to Youtube, I made the video private so only those who have the link or have the QR code can access it. Because of this I can't share the code with you I used for these bags.