Salvation Gloves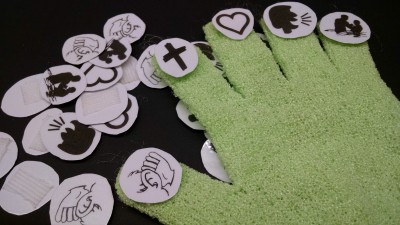 The Salvation Glove is a hands on activity that can be used while teaching or reviewing God's plan of Salvation. There are two other versions of this on this website but I have never been completely satisfied with it so I keep redoing it. The first one was done before I learned about the exfoliating gloves so I used garden gloves. It was also before I knew much about images on the computer so I used words.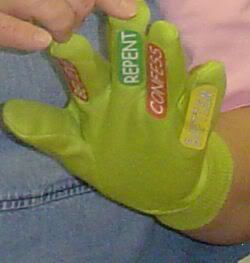 The words were glued down to the garden gloves so the students do not get to do the activity (choosing the pictures) over and over again. Here is a link to that glove: Steps To Salvation
The second time I attempted the glove was for younger children so pictures were necessary. I still had not discovered exfoliating gloves and I knew the garden gloves would be way too large for the little ones so small winter gloves were used.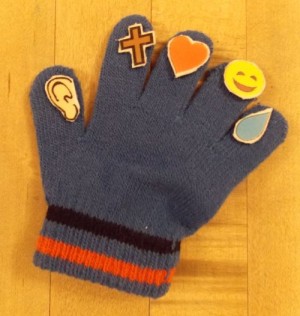 These were made the same as those described on this page. I wasn't happy with the images I used so this page introduces the new improved version. Hope you like it.
Supplies:
*1 exfoliating bath glove per student plus one for you. These can be found in most discount stores. Do not spend a lot of money. Buy the cheap ones.
*Card stock
*Laminating supplies
*Velcro — the kind with adhesive on the back. This will stick easily to lamination done with a hot laminator. It doesnt work as well if you are using a cold laminator.
*Storage bags or baskets
To Assemble:
Print PDF on card stock.
Laminate.
Cut each piece out.
Put small piece of the hook side of velcro to the back of each piece.
Store piece in small ziploc bag.
Store gloves and the small ziploc bag in a larger ziploc bag or small basket.
Laminate the instructions and store with the gloves.
During Class:
Give each child an exfoliating bath glove. Give them a few minutes to put it on.  This is challenging for younger kids.
Scatter the pieces on the table. There should be a complete set for each child.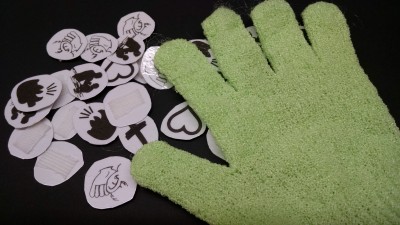 As you talk about each of the steps leading to salvation, let the children find the one you are talking about and put it on his glove.
The first picture represents HEARING (the hand cupped to ear) which should naturally lead to the next picture…
Romans 10:17 "So then faith comes by hearing, and hearing by the word of God."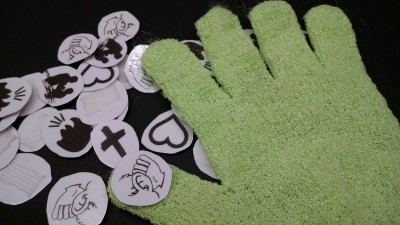 The next is BELIEVING represented by a cross to remind us that we are to believe that Christ is the Son of God, died on the cross, raised from the dead and ascended to Heaven where He is now.
Mark 16:16 "He who believes and is baptized will be saved; but he who does not believe will be condemned."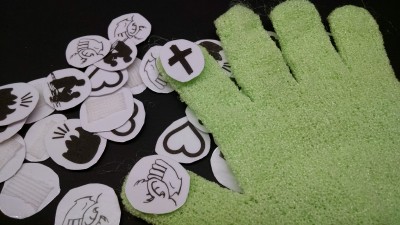 The third is a heart representing REPENTANCE.  Repentance is a change of heart, a turning from our evil ways and to the direction God would have us to go.
Luke 13:3 " I tell you, no; but unless you repent you will all likewise perish."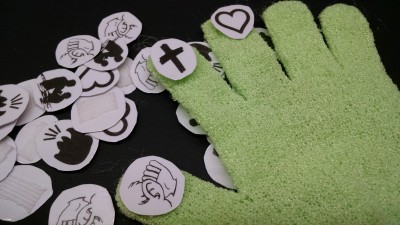 The fourth is a picture of someone speaking and represents CONFESSION.  We are told to confess (or tell others) of our belief that Christ is the Son of God.
Matthew 10:32-33 "Therefore whoever confesses Me before men, him I will also confess before My Father who is in heaven. But whoever denies Me before men, him I will also deny before My Father who is in heaven."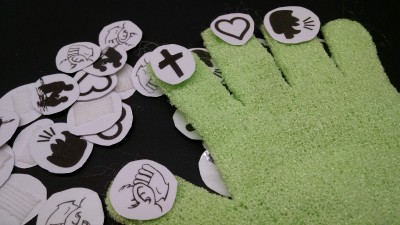 The fifth is picture of someone being BAPTIZED for the forgiveness of his sins.  It is at baptism that we are forgiven, we are set apart, we are adopted as children of God, we put on Christ.
Acts 2:38 "Then Peter said to them, "Repent, and let every one of you be baptized in the name of Jesus Christ for the remission of sins; and you shall receive the gift of the Holy Spirit."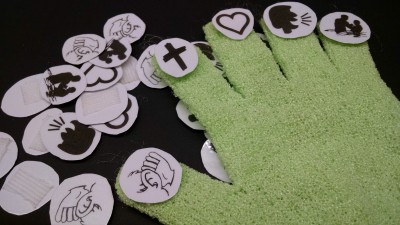 After the gloves are complete, I like to sing the Salvation song.
Older children could memorize passages that teach about each of the parts of God's plan for salvation. As they recite the passage, they can put the correct picture on the glove.