Peter and Cornelius
Lesson 8 of God's Prophets in The New Living Bible Lessons is about Ezekiel. IN this lesson God told Ezekiel to teach the people. The New Testament comparison made is Peter teaching Cornelius.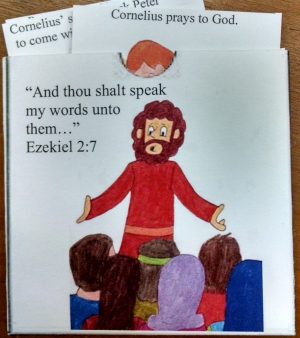 This activity is a sequencing activity. Like Parable of the Tenants activity fits inside a library pocket.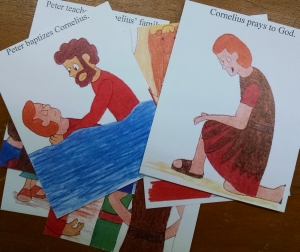 After going over the lesson, the students then put their pictures in the order it happened. When they were done, they turned each card over.

If the pictures were in the right order, they will see the scripture, "And thou shalt speak My words unto them…" Ezekiel 2:7.

The pictures came from a fellow blogger and Bible teacher, Ticia from Adventures in Mommydom. You can find her lesson on Peter and Cornelius here: Peter and Cornelius Sunday School Lesson. She graciously gave me permission to publish the pictures of the activity I created using her drawings, but, understandably, requested I not share the PDF. She has a PDF on her site that you can download and use.
This activity can be sent home at the end of class or glued into the project folder found here: God's Prophets Project Folder