Jesus' Apostles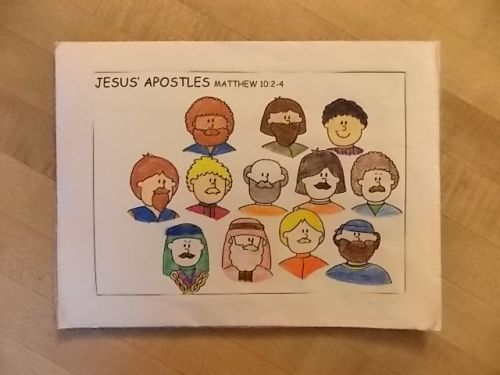 A memory/matching folder activity that will help your students become more familiar with the apostles. When match is made, the student can turn the cards over and put together the 2 piece puzzle of the apostles. If the cards don't match, the picture won't match either.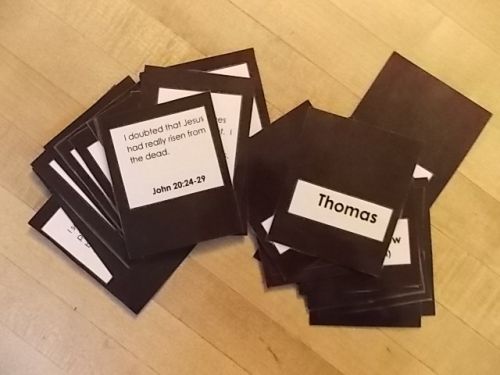 The cards are divided into 2 groups. The cards in one stack have a description of an apostle and a passage the description was taken from. The other stack has cards with the apostle's name on it. On the backs of these cards are the puzzle pieces of the apostles. The top half is on the description card and the bottom half is on the name card.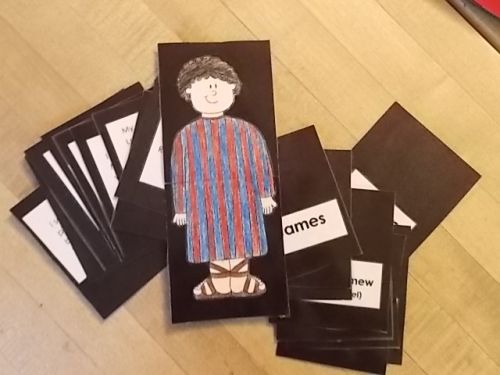 Lay the cards on the table with the description/name facing up. I usually divide them up so that the description cards are on one side of the table and the name cards are on the other. The student chooses a description card and decides which apostle it describes. If the match is correct the pictures on the back will match.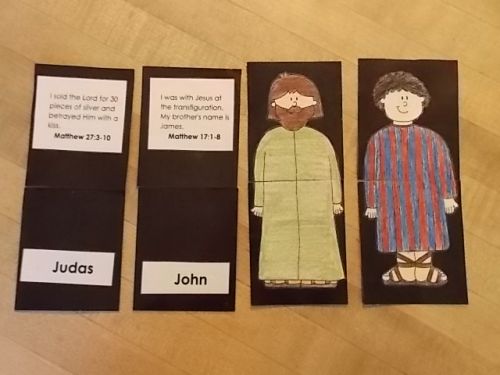 I don't have a pdf to share with you because the activity was made before I was saving things like this and because the pictures are not mine to share. They are part of Soul-ly For Kids curriculum. I don't know if they are still producing their curriculum but if you ever get a chance to purchase, do so. You can use any pictures of the apostles that are available. Since I don't have a pdf for you, I'll share the descriptions I wrote. You can probably come with some that are better than these.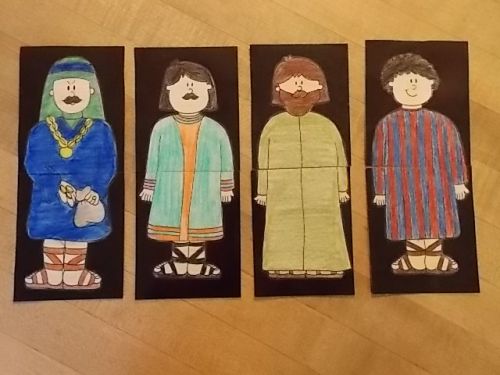 Bartholemew (Nathanael) — Philip introduced me to Jesus. John 1:45-51
James — Not much is known about me. Some people think I might be Matthew's brother. Our father's are both Alphaeus. Matthew 10:3
James — I was with Jesus when Jairus' daughter was raised. My brother's name is John. Mark 5:37
Matthew — I was a tax collector. Some people called me Levi. Mark 2:14
Philip — Jesus asked me where we could buy food to feed the multitude. He was testing me. John 6:5-6
Peter — Jesus took me with him when he prayed in the Garden of Gethsemane. My brother's name was Andrew. Matthew 26:36-46; Matthew 4:18
Andrew — I was a fisherman. My brother's name was Peter. Matthew 4:18
Thaddaeus — My other name is Lebbaeus. Matthew 10:3
Thomas — I doubted that Jesus had really risen from the dead. John 20:24-29
Simon — I am sometimes called a Zealot. I did not like the Romans ruling us. Acts 1:13
John — I was with Jesus at the transfiguration. My brother's name is James. Matthew 17:1-8
Judas — I sold the Lord for 30 pieces of silver and betrayed Him with a kiss. Matthew 27z:3-10

Always include instructions with any activity you do.