Nebuchadnezzar's Dreams
My class recently studied about the dreams of Nebuchadnezzar found in Daniel 2 and Daniel 4. An idea for an activity was beginning to form in my mind but it was coming very easily. That made me think, "I wonder if I've done this before." I took a look at the website and, after doing a search for Nebuchadnezzar in the search feature, found this activity hidden on a page the miscellaneous activity page. It was (and still is) just a link to a pdf of the activity. Since I had so much trouble finding it and knowing that a link without pictures isn't very helpful, I got my camera out and started snapping away. Hopefully, the photographs and the explanation below will make this activity more understandable.
The activity will give the children the opportunity to determine which statements on the cards describes which dream and separate the statements in 2 piles. They can then turn the cards over and put the two puzzles, with pictures representing the dreams, together.
I used this activity over 2 class periods. The class period that we studied the statue dream, I handed the children the activity with just one set of cards. Obviously, all the cards went with the same dream but the children were encouraged to read the statements before putting the puzzle together. They put their names on the back of the activity to be saved for later.
When we studied the tree dream, I passed their activities out but this time had both sets of cards included. The cards were shuffled together requiring the child to read the card and determine which dream it described. After separating the cards, they put the puzzle together and then placed the cards in the appropriate pocket.
If you would like to use this activity one more time (a total of 3 class periods), the first week, pass out just the statue dream cards. The 2nd week pass out both cards but have them separated in their proper pockets. The 3rd week, pass out all the cards, shuffled together so the children can separate them into 2 piles before putting the puzzles together. This makes for a wonderful review activity.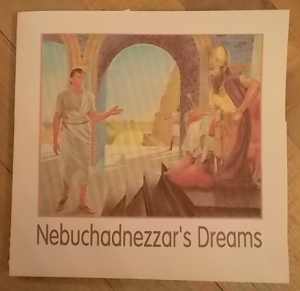 Click picture for PDF of activity. This is a .zip file.

Both set of cards turned picture side down.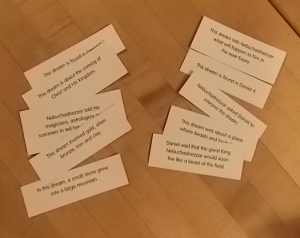 Cards separated into their appropriate dreams.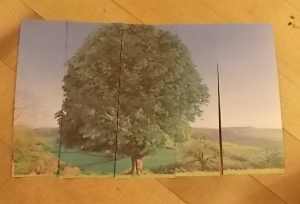 The tree puzzle.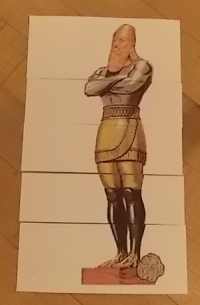 The statue puzzle.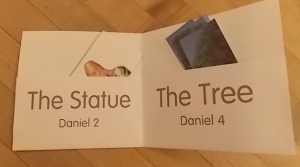 The cards placed in their appropriate pockets.